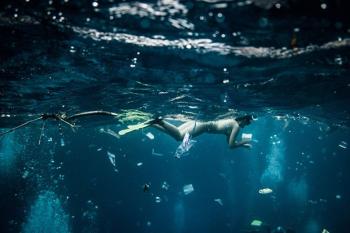 Melissa Gates, of Surfrider Foundation, will lead a presentation and panel discussion on the issue of mitigating plastic pollution in coastal waterways at Merryspring Nature Center on Tuesday, May 8, at noon.
After a short slideshow orienting the audience to the issues surrounding single-use plastic, Gates will lead a panel on policy, legislative, and individual and community solutions to curbing plastic pollution. A panel of local officials from Rockland and Camden, and local activist and retail groups offer their perspectives on the issue. Audience participation is encouraged, and all viewpoints are welcome.
Gates is the Northeast Regional Manager of the Surfrider Foundation. The Surfrider Foundation is an environmental nonprofit organization dedicated to the protection and enjoyment of the ocean, waves, and beaches through a powerful volunteer network campaigning across five initiative areas: beach access, clean water, climate change and coastal preservation, ocean protection, and plastic pollution mitigation.
This lecture is part of the Spring Talk series at Merryspring, co-sponsored by Camden National Bank and Camden Real Estate Company.
Admission to Tuesday talks is $5, with free admission for members of Merryspring.
Merryspring is a community nature center offering walking trails, cultivated gardens, wildlife, and ecology and horticulture educational programs year-round. The park is located at the end of Conway Road, just off of Route 1 in Camden behind Hannaford Shopping Plaza. For more information on this program, contact info@merryspring.org or call 207-236-2239.