Posted on | April 26, 2016 | Comments Off on Penbay Pilot Article about MWA's new Lake Warden Dale Dougherty
http://www.penbaypilot.com/article/dale-dougherty-named-new-megunticook-watershed-lake-warden/69221
Posted on | April 25, 2016 | Comments Off on Megunticook Watershed Association hires new lake warden
The MWA Board is pleased to announce the hiring of Dale Dougherty as our new Lake Warden.  Dale, a native of Camden, brings a wealth of knowledge and experience about the watershed to the job.  Dale is the son of Carleton Dougherty, a founding member of the Association.  Dale grew up on Megunticook Lake and Norton Pond fishing, hunting, and boating.  He was good friends with Ken Bailey and helped him many times over the years rescuing loose boats and floats, and cleaning up the shore line of old foam, floating lumber, and trees.
Dale has worked in the marine trades for many years, and has captained boats out of Islesboro and Camden.  He also was the head alpine ski coach at Camden Rockport high school for over 20 years.
Currently Dale is working with outgoing Warden Justin, learning the job.  Dale says he hopes he can continue the great work started by Ken Bailey, and continued by Justin, keeping the Megunticook Watershed a safe and beautiful place to live, work and play for
all.
Justin will be on the job training Dale until June 1st.  So you will be seeing Warden reports from both Justin and Dale.  After June 1st Justin will be filling in as needed.
So if you see Dale out and about in the patrol boat wave him over and introduce yourself!
Paul
Posted on | April 25, 2016 | Comments Off on Growing greener lawns, gardens at Rockport natural practices landscaping forum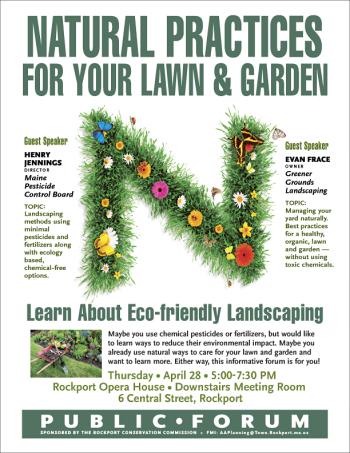 Posted on | April 16, 2016 | Comments Off on RED FLAG FIRE WARNING SAT. APRIL 16
Red Flag Warning
URGENT - FIRE WEATHER MESSAGE
NATIONAL WEATHER SERVICE GRAY ME
317 AM EDT SAT APR 16 2016

...HIGH FIRE DANGER CONTINUES...

.VERY DRY AIR REMAINS IN PLACE ACROSS THE AREA THROUGH THE
WEEKEND. THE COMBINATION OF VERY DRY AIR AND MODERATE WINDS WILL
LEAD TO DANGEROUS FIRE GROWTH POTENTIAL ONCE AGAIN TODAY.
STRONGEST WINDS WILL LIKELY BE THIS MORNING BEFORE DIMINISHING
SOME THIS AFTERNOON.
Posted on | April 6, 2016 | Comments Off on What Does an Early Ice-Out Mean for Water Quality?
Here's a link to a Bangor Daily article discussing
What an early spring means for Maine's lakes
Posted on | March 31, 2016 | Comments Off on Upcoming Events
Head to our Upcoming Events page to see what's happening in the area.
A couple of note are:
Penobscot Watershed Conference: Sharing our Heritage, Challenges, and Future on April 9th and
Invasive Forest Pests Workshops April 6 in Wiscasset and April 12 in Searsmont.
Posted on | March 19, 2016 | Comments Off on More Critter Close-Ups and Ice Out Vid!
Here is another round from the "Critter Cam". I may try to get one more in this season after this so stay tuned……….
Also, here's an Ice Out video link to Youtube
Justin
Posted on | March 12, 2016 | Comments Off on Ice Out!!
The results are in…………
Ice out on Megunticook Lake was called this year on March 11th @ 5:03 PM, I received several guesses for the days before and after this date but there were 4 folks that guessed the correct day…..2 of these fine folks guessed the time within an hour……..
First Place belongs to: Nancy Ford who guessed March 11th @ 4:33 PM
Second Place belongs to: Don Murray who guessed March 11th @ 4:00 PM
The other two guesses for the correct day were Anne Mitchell who guessed 11:11 AM and Caleb Lincoln who guessed 8:29 AM.
Great job guys and this marks the earliest Ice Out on Megunticook Lake to date, Norton Pond should be out soon……We will see you on the water, stay safe.
Lake Warden
Justin Twitchell
Posted on | March 11, 2016 | Comments Off on Warden's Report- Close-ups!
This weeks "Critter Cam" pictures are a tribute to the "close-up"…..enjoy
Justin
Posted on | March 3, 2016 | Comments Off on Megunticook Ice-Out Contest!
You Might Want to Hurry This Year!
The Megunticook Lake Watershed Association is once again sponsoring an "Ice Out" contest. The person who guesses closest to date and time the ice goes out on Megunticook Lake will win a $100.00 gift certificate from Maine Sport and a year's subscription to The Camden Herald.  The Second best guess prize is a $50.00 gift certificate from The Hatchet Mountain Publick House restaurant in Hope.
"Ice Out" is called when a boat can navigate in open water from the outlet dams to the Ken Bailey Bridge where Norton Pond empties into the lake.
Contestants can send their entries to:
LakeWarden@Megunticook.org
or
MWA  P.O. Box 443 Camden ME 04843.
When sending your entry please include your full name and contact number.  Get your entries as soon as possible since the ice might not last long this year; but if you are a gambling sort we will accept entries up to 24 hours from the Ice-Out time. Please, one entry per person. Our Lake Warden, Justin Twitchell, will call "Ice Out". Here's a list of recent Ice-Out dates.
Good Luck!
| | | | | | |
| --- | --- | --- | --- | --- | --- |
| 1980 | 8-Apr | | | | |
| 1981 | 30-Mar | | 1998 | 31-Mar | (12:30 p.m.) |
| 1982 | 20-Apr | | 1999 | 30-Mar | (4:22 p.m.) |
| 1983 | 6-Apr | | 2000 | 1-Apr | (6:25 p.m.) |
| 1984 | 20-Apr | | 2001 | 25-Apr | (5:38 a.m.) |
| 1985 | 4-Apr | | 2002 | 29-Mar | (10:45 a.m.) |
| 1986 | 6-Apr | | 2003 | 20-Apr | (3:00 p.m.) |
| 1987 | 13-Apr | | 2004 | 17-Apr | (12:35 p.m.) |
| 1988 | 9-Apr | | 2005 | 14-Apr | (4:00 p.m.) |
| 1989 | 13-Apr | | 2006 | 28-Mar | (5:30 p.m.) |
| 1990 | 7-Apr | | 2007 | 24-Apr | (11:45 a.m.) |
| 1991 | 6-Apr | | 2008 | 17-Apr | (6:34 p.m.) |
| 1992 | 21-Apr | (4:30 p.m.) | 2009 | 13-Apr | (2:40 p.m.) |
| 1993 | 23-Apr | (8:15 a.m.) | 2010 | 19-Mar | (5:02 p.m.) |
| 1994 | 16-Apr | (10:44 a.m.) | 2011 | 14-Apr | (9:50 a.m.) |
| 1995 | 3-Apr | (6:05 p.m.) | 2012 | 19-Mar | (1:25 p.m.) |
| 1996 | 12-Apr | (7:50 p.m.) | 2013 | 10-Apr | (4:55 P.M.) |
| 1997 | 20-Apr | (11:20 a.m.) | 2014 | 15-Apr | (9:55 A.M.) |
| | | | 2015 | 20-Apr | (10:58 A.M.) |
keep looking »