Posted on | May 29, 2015 | No Comments
Big Daddy Gray Tree Frog hanging out at camp on Memorial day. Do you know what his call is? Check it out here https://www.youtube.com/watch?v=9bzotS1ow0Q
Test your knowledge of all the Maine frog calls at this USGS site https://www.pwrc.usgs.gov/Frogquiz/
Posted on | May 29, 2015 | No Comments
Posted on | May 23, 2015 | No Comments
It is hard to believe that Memorial Day Weekend is here, it seems just yesterday we were complaining about all the snow and cold.  The last couple of weeks have gone by very fast and had provided us with some great weather, just last weekend I saw a few kids swimming.  With the water surface temperatures hovering right around 60 degrees I think I might wait just a bit longer to take the first plunge of the year.  The warm weather has brought out many fisherman and the lake saw it's first bass fishing tournament during the last weekend of April.  During the last week or so I have seen a great deal of kayakers and paddle boarders as well.
     All the navigational aids are in…..with the exception of the "swim area" buoys on Norton pond. The town of Camden has placed the swim area string buoys off the beach and will be placing the swim dock very soon.  Each year when the buoys are placed out on the water I use all new rope and each knot is taped with electrical tape at the base of the weight and at the base of the buoy. This may be a little "over-kill" but I have yet to lose a buoy. It takes aprox. 450 feet of rope and 5 rolls of tape to complete this project each year.
     By this time of year, after all the projects are done the boat is every color but white.  This past week-end I pulled the boat and brought it over to the Rockport Town garage and gave it it's Spring cleaning (Rockport has a great industrial heated pressure washer). A few bottles of bleach and a few hours later the boat was once again white-er (just in time for it to turn yellow from all the pollen). On the way back to the Lake I stopped by Adventure Advertising and had them place an "A" on the boat that fell off some time last fall.  They were kind enough to complete this task at no charge. The Patrol Boat is back in the water and looking like new ready for the Summer to get underway.
     Before long the the boat ramps will be a buzz of activity, all the favorite picnic and swimming spots will be filled and the constant hum of outboard engines will be heard from daylight to dark.  Before venturing out on the water please be sure that your vessel is registered, this years registration stickers are Green.  Make sure you have enough life vests on board to accommodate each person in your vessel and always operate with safety as your first priority.  If you are going to be using a paddle board please remember that a PFD is required.  And please remember that when operating a motor boat with-in 200 feet from shore you must be at "Headway Speed". (the slowest possible speed but still being able to maintain control and steering of your boat".
     There are new laws that are in effect as it pertains to the use of lead fishing tackle.  Before going out check your tackle box and remove any lead sinkers, jigs or lures to avoid being in violation.  These new laws can be found at the Maine's Inland Fisheries and Wildlife web-site and on the Lead Sinkers page .
     Cody Laite and I will be out all Summer long monitoring activity on the Watershed.  I look forward to seeing you all out on the water and please have a safe and enjoyable Memorial Day weekend.
Posted on | May 8, 2015 | Comments Off
Please be very careful with any fire.  No Burn Permits are being issued due to the very dry conditions in the area.  Here's a link to a news story about a fire in Searsmont yesterday.  The helicopters and fire crews were back this morning trying to keep it from flaring up again. http://www.penbaypilot.com/article/large-woods-fire-fought-ground-air-searsmont-thursday/52547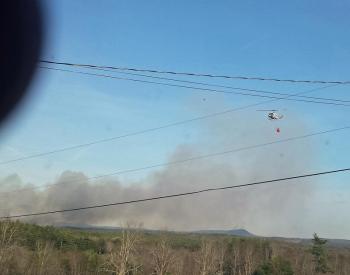 So be careful with any fire outside, including grills and barbecues,  until we get some substantial rain.
Posted on | May 8, 2015 | Comments Off
From Lake Warden Justin:
Attached are two photos of a section of dock that was said to have made it's way through the causeway between Norton and Megunticook, floated under the bridge, and ended up on shore across from the Lerner place.  Cody and I pulled it out of the water so it would not continue its journey down the lake.
If anyone can identify it's owner please advise so I can make contact with them and ensure it's safe return.
Thank You
Justin Twitchell
and a few wildlife pics:
Posted on | May 4, 2015 | Comments Off
It was a little hazy and chilly (47) this morning but the lake was like glass and I couldn't resist hopping in the boat for a quick ride with Clare. Here's a few pics.
Paul
Posted on | March 17, 2015 | Comments Off
If for nothing else, I like St. Paddy's Day because of the Kelly Green.

There's not a whole lot of green happening around the watershed in March.
However, Lake Warden Justin reports some open water around the Little Fang Islands, so please be cautious if you venture in that direction. The water levels are low which causes the rocks to be exposed. The sun beats down on them they warm up and melt the ice around them. So be careful out there and let's take it as a sign of spring!
A few other items:
Go to our website for a list of upcoming events: http://www.megunticook.org/index.php/upcoming-events-in-the-area/ These include the Penobscot Bay Stewards program offered by Belfast Bay Watershed Coalition. deadline for applications are April 1. the application and more info are on our website.
We also posted some more critter cam shots on the website!
We measured the amount of water in the snowpack last week and relayed that info to the United States Geologic survey and the town of Camden's Dam Agent. The watershed is averaging 7.4″ of water in the snowpack. We haven't had that much at this time of the year in over a decade. To put that in perspective, imagine we had a 3 day rain storm during the summer with a total of 7″ of rain. That would be one heck of a gully washer! So, to reduce the chance of flooding, let's hope for a nice gradual snowmelt with no warm rainstorms.
Finally, don't forget to put an entry in for this year's "Ice Out Contest". Send your educated guesses to LakeWarden@Megunticook.org or P.O. Box 443, Camden ME 04843. It could be a tough year to call. So far Justin has received guesses ranging from April 18th to May 1st.
Paul
Posted on | March 5, 2015 | Comments Off
Posted on | March 5, 2015 | Comments Off
Warden's Report
Heat Wave!
Yesterday's temperatures really started to get the blood pumping, kinda makes me think that there is such a thing as Spring and that it might actually make it's way here at some point.  I have moved more snow and logged more hours behind a shovel this year then any year I can remember.  BUT….there are only 16 more days until Spring is here (so my calender says) and this week-end Daylight Saving Time begins.
     Keeping the snowmobile dug out and ready to go at a moments notice has proven to be a full time job as well but I have been able to get out and put a few miles on.  I have been working with Warden Merrifield this year in an attempt to buckle down on ice shacks that are not properly posted with the owner's name and address.  To date, there is one on Megunticook and one on Norton that are in violation, each of these have been photographed and I have even left a nice friendly reminder note in each one advising the owner of the violation.  I am in hopes that the owners will comply on their own and hope even more that the shacks will not need to be removed with the boat.
     The "Critter Cam" is more active then ever and I think the deer can feel the change in the air.   Just about every time I am out on the sled I can see deer moving across the lake or around the shore lines.  Last weeks "Critter Cam" pictures provided 1,818 pictures in just six days, I think I have it in a good spot.
     Tuesday night's storm left us with a small amount of snow but that snow was heavy and wet. With warmer weather (hopefully) coming our way, existing snow will be getting heavier and more packed.  For any of you who have not had the time or the means to clean the snow off your camp/cottage yet, now may be the time to try to make arrangements to get this done.  Luckily most of our storms have brought light fluffy snow, but a bunch of it. If we start to put some of this heavy wet snow on top of that it might be the "straw that breaks that camel's back".
     On Sunday, March 8th the Knox County Fish And Game Association will be hosting their annual Ice Fishing Derby.  This will be held at Beaver Lodge in Hope.  For more information check out their web page.
Start preparing yourself for mud.
Posted on | February 27, 2015 | Comments Off
Megunticook Lake Ice-Out Contest
The Megunticook Lake Watershed Association is once again sponsoring an "Ice Out" contest. The person who guesses closest to date and time the ice goes out on Megunticook Lake will win a $100.00 gift certificate from The Hatchet Mountain Publick House restaurant in Hope and a year's subscription to the Camden Herald. The Second best guess prize is a $50.00 gift certificate from Maine Sport. "Ice Out" is called when a boat can navigate in open water from the outlet dams to the Ken Bailey Bridge where Norton Pond empties into the lake. Contestants can send their entries to LakeWarden@Megunticook.org or P.O. Box 443, Camden ME 04843. It is suggested that entries be in before midnight March 22, 2015; but if you are a gambling sort we will accept entries up to 24 hours from the Ice-Out time. Please, one entry per person. Our Lake Warden, Justin Twitchell, will call "Ice Out". When sending your entry please include your full name and contact number. Good Luck!
Here's a list of Ice-Out dates and times and a few pics from Maiden's Cliff in 2013 just before the big day.
| | | | | | |
| --- | --- | --- | --- | --- | --- |
| 1980 | 8-Apr | | 1997 | 20-Apr | (11:20 a.m.) |
| 1981 | 30-Mar | | 1998 | 31-Mar | (12:30 p.m.) |
| 1982 | 20-Apr | | 1999 | 30-Mar | (4:22 p.m.) |
| 1983 | 6-Apr | | 2000 | 1-Apr | (6:25 p.m.) |
| 1984 | 20-Apr | | 2001 | 25-Apr | (5:38 a.m.) |
| 1985 | 4-Apr | | 2002 | 29-Mar | (10:45 a.m.) |
| 1986 | 6-Apr | | 2003 | 20-Apr | (3:00 p.m.) |
| 1987 | 13-Apr | | 2004 | 17-Apr | (12:35 p.m.) |
| 1988 | 9-Apr | | 2005 | 14-Apr | (4:00 p.m.) |
| 1989 | 13-Apr | | 2006 | 28-Mar | (5:30 p.m.) |
| 1990 | 7-Apr | | 2007 | 24-Apr | (11:45 a.m.) |
| 1991 | 6-Apr | | 2008 | 17-Apr | (6:34 p.m.) |
| 1992 | 21-Apr | (4:30 p.m.) | 2009 | 13-Apr | (2:40 p.m.) |
| 1993 | 23-Apr | (8:15 a.m.) | 2010 | 19-Mar | (5:02 p.m.) |
| 1994 | 16-Apr | (10:44 a.m.) | 2011 | 14-Apr | (9:50 a.m.) |
| 1995 | 3-Apr | (6:05 p.m.) | 2012 | 19-Mar | (1:25 p.m.) |
| 1996 | 12-Apr | (7:50 p.m.) | 2013 | 10-Apr | (4:55 P.M.) |
| | | | 2014 | 15-Apr | (9:55 A.M.) |
keep looking »